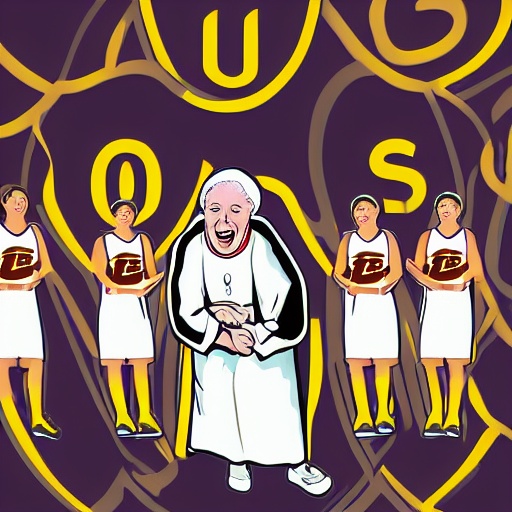 How has Sister Jean's presence impacted the Loyola basketball team and the coaching staff?
Sister Jean's presence has had a profound impact on the Loyola basketball team and coaching staff. She serves as a source of inspiration and motivation for the players, reminding them to stay focused on their goals and to always give their best effort. Her unwavering faith and positive attitude create a sense of unity and camaraderie within the team, fostering a supportive and encouraging environment. The coaching staff also greatly values Sister Jean's presence, as she provides spiritual guidance and offers words of wisdom that help them in their leadership roles. Her spiritual insights and uplifting messages have a transformative effect on both the players and the coaching staff, contributing to their success on and off the court.
What challenges has Sister Jean faced during the COVID-19 pandemic and how has she stayed involved with the team?
The COVID-19 pandemic presented many challenges for Sister Jean, but she found innovative ways to stay involved with the team. Unable to attend the games in person, Sister Jean adapted by delivering virtual pregame prayers from her senior independent living apartment. She continued to support and encourage the players through email correspondence, providing them with guidance and scouting reports. Despite the physical distance, Sister Jean remained a pillar of strength and inspiration for the team. Additionally, Sister Jean faced the challenge of promoting team spirit and unity during a time of social distancing. She organized virtual team bonding activities and shared uplifting messages with the players to keep their spirits high. Through her resilience and adaptability, Sister Jean ensured that her impact on the team persisted despite the challenging circumstances.
What lessons can we learn from Sister Jean's journey and her unwavering faith?
Sister Jean's journey and unwavering faith teach us valuable lessons about resilience and the pursuit of our passions. Despite facing numerous obstacles throughout her life, including the challenges of war and a global pandemic, Sister Jean never wavered in her commitment to serving others and staying true to her calling. Her unwavering faith in God and her ability to find joy and purpose in her work serve as an inspiring example for all. Sister Jean's story reminds us that it is possible to overcome adversity and find fulfillment by staying dedicated to our passions and beliefs. Her journey also emphasizes the importance of community and the power of support. Sister Jean's impact on the Loyola basketball team and the broader community is a testament to the transformative power of unwavering faith and a steadfast commitment to one's purpose.
Full summary

Sister Jean, the beloved chaplain of Loyola Chicago's men's basketball team, has captured the hearts of fans across the nation with her unwavering support and inspirational presence. At 104 years old, Sister Jean's journey is a testament to the power of faith, resilience, and the pursuit of one's calling.

Born in 1919, Sister Jean discovered her calling at a young age while attending a Catholic school in San Francisco. Inspired by her third-grade teacher, who was a member of the Sisters of Charity of the Blessed Virgin Mary, she prayed to become a dedicated sister herself. Joining the BVM motherhouse in Dubuque, Iowa, Sister Jean embarked on a lifelong journey of service and devotion.

During World War II, Sister Jean taught at Catholic schools in California, providing guidance and education to young minds during a challenging time. Her dedication and passion for working with young people became evident early on, setting the stage for her future endeavors.

In 1961, Sister Jean moved to Chicago and became a part of Mundelein College, where she held leadership positions and made a significant impact on the educational community. Her commitment to ensuring a smooth transition for former Mundelein students who transferred to Loyola caught the attention of many, further solidifying her reputation as a compassionate and dedicated individual.

It was in 1994 that Sister Jean's journey with Loyola truly began. Taking on the role of the team's chaplain, she became a guiding light for the players and coaching staff. Throughout the years, Sister Jean's unwavering faith and unwavering support have been a source of inspiration and motivation for the Ramblers.

The year 2018 proved to be a turning point, as Loyola embarked on an extraordinary Cinderella run to the Final Four. Sister Jean's presence and pregame speeches became iconic, capturing the attention of the nation. She was seen as not only an inspirational figure but also a symbol of hope and perseverance.

In addition to her support for the basketball team, Sister Jean's impact extended beyond the court. She made headlines when she threw out the first pitch at a Chicago Cubs game at Wrigley Field, further solidifying her place in the hearts of sports fans everywhere.

The past year has been challenging for Sister Jean, as the COVID-19 pandemic prevented her from attending Ramblers games in person. However, her spirit remained unyielding as she delivered pregame prayers virtually from her senior independent living apartment in downtown Chicago. She stayed involved by emailing with the players and providing a scouting report for Ramblers coach Porter Moser.

Amidst it all, Sister Jean found time to reflect on her experiences and share her wisdom with the world. She released her memoir, 'Wake Up with Purpose! What I've Learned in My First Hundred Years,' in which she delves into her journey and the lessons she has learned along the way. The memoir became an instant sensation, with readers captivated by Sister Jean's compassionate nature and love for God.

As the Loyola Ramblers gear up for another exciting season, Sister Jean continues to be their unwavering supporter. Her wish to attend the team's opening game in the NCAA Tournament in Indianapolis was granted. Though not having any direct in-person contact, Sister Jean will be provided with a nurse, security, and meal service at the team's hotel. Her presence and unwavering faith will undoubtedly inspire and motivate the players to reach new heights.

Sister Jean's story is one of inspiration and dedication. From discovering her calling as a child to becoming a beloved figure at Loyola, she has touched the lives of countless individuals. Through her unwavering faith, she reminds us all of the power of resilience and the importance of pursuing our passions. Sister Jean's legacy will be remembered for generations to come, as a compassionate person who loves God and loves what she does.